Television Unleashed at MIPCOM 2011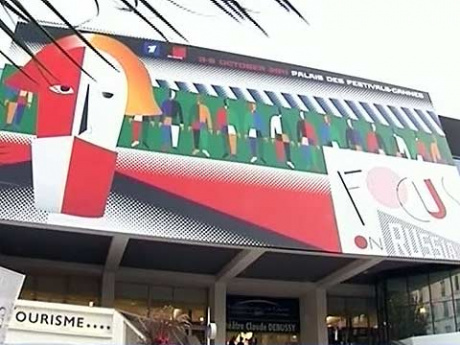 Demarcation Lines Blur and International Deals Abound
3-6 October 2011, Palais des Festivals, Cannes
CANNES, France, Oct. 7, 2011 /PRNewswire/ -- It's taken three or four years, but the debate over whether digital, online and mobile are a threat to television is over. And the winner is...everyone!
Which explains the resolutely upbeat mood in Cannes this week, as over 12,500 delegates from 4,211 companies and 102 countries gathered at MIPCOM and cross-border deal-making moved into overdrive.
The new reality was summed up by Disney Media Networks Co-Chair and Disney/ABC Television Group President Anne Sweeney in her MIPCOM keynote address. "The lines between content and technology are blurring. Digital technology didn't disrupt our business, it transformed it. Digital didn't weaken the power of television, it unleashed it."
According to Anne Sweeney, the global television audience will grow to 3.7 billion people this year and television viewing will increase by a staggering 140 billion hours in 2011. "Television is the medium around which all others revolve," she told MIPCOM delegates.
That view was echoed by Kevin Reilly, President of Entertainment at Fox Broadcasting. "It turns out the next big thing is going to include the same old big thing, TV," he told a packed keynote conference. "Potent TV franchises can migrate across all technologies and behaviours. We're no longer at a place where content gives way to technology. They need us and we need them."
This year, Fox pre-released an episode of new comedy 'New Girl' on iTunes and VOD and the result was over two million downloads. As positive word of mouth spread on Twitter and Facebook, the show opened to the network's biggest comedy ratings score in 10 years, Kevin Reilly told his audience.
The coming together of practically all players in the global entertainment industry was underlined when Miramax CEO, Mike Lang, sat down for what he described as a public fire-side chat with Netflix Chief Content Officer, Ted Sarandos.
Since arriving at Miramax in December 2010, Mike Lang has signed a string of digital distribution deals, including agreements with Netflix and Hulu and the respected independent film studio has created its own App allowing consumers to watch films on Facebook, iPad and Google TV.
Ted Sarandos surprised many of the audience at his joint keynote with Mike Lang by reporting that TV series can now account for between 50%-60% of Netflix viewing figures. He said this didn't represent a move by Netflix away from films, but reflected consumer demand.
Netflix, having acquired first-run rights in March to David Fincher's US remake of popular UK drama 'House of Cards,' is now set to premier Stevie Van Zandt's Norwegian-based 'Lilyhammer,' which the E Street Band guitarist and 'Sopranos' star was promoting heavily at MIPCOM. Netflix also acquired rights for the North American premiere of Tom Fontana's 'Borgia' series from distributor Beta Film.
Film Stars Shine at MIPCOM
Miramax isn't any stranger to Cannes, but the film studio is more often associated with the Cannes Film Festival rather than MIPCOM, where it was exhibiting for the first time.
However, Miramax was in familiar company in Cannes this week.
Among a plethora of internationally-renowned film names to attend MIPCOM, German filmmaker, Werner Herzog, brought his latest documentary 'Into the Abyss – A Tale of Death, A Tale of Life' about American convicts on death row.
Playwright Sir Tom Stoppard and Producer David Parfitt respectively scripted and produced Oscar-winning 'Shakespeare in Love.' The duo was back together this week as both men flew into Cannes to promote Stoppard's first TV script in over two decades, 'Parade's End.' BBC Worldwide closed several deals on the period drama, with Australian rights going to Nine Network.
Dutch filmmaker Paul Verhoeven, making his inaugural visit to MIPCOM, has thrown his directorial experience behind FCCE's multi-platform, user-generated film-making project 'The Entertainment Experience.' The innovative concept invites the public to take over scriptwriting, acting, producing, scoring, special effects and game development starting from three minutes of a movie submitted by Dutch actress and scriptwriter Kim van Kooten. Paul Verhoeven will have the final cut on the film.
Tuesday, October 4 saw Hollywood actor and '24' star, Kiefer Sutherland take centre stage with Fox Entertainment's Kevin Reilly and Executive Producer Tim Kring to make the international launch of Fox's new drama 'Touch.' Conference delegates were treated to the first look at an extended trailer of the series.
Kiefer Sutherland admitted that he hadn't expected to return to television so soon after '24,' but that the 'Touch' script was one he just couldn't pass on.
The same could be said for Colm Meaney, who's film credits include 'The Commitments,' 'Die Hard 2,' 'Con Air' and 'Dick Tracy.' The Irish actor joined up with co-stars Anson Mount, Dominique McElligott and Common as Entertainment One and Endemol brought Post-Civil War America epic western 'Hell on Wheels' to MIPCOM. Playing a railroad owner who he admits is "despicable," Colm Meaney noted, "Hell on Wheels is an exciting, complex, dramatic show that we are incredibly proud of."
Returning for a second year, the MIPCOM World Premiere TV Screenings saw the international debut of ABC Studio's 'Missing' on October 3, with star cast members Ashley Judd, Cliff Curtis and Adriano Giannini in Cannes to meet with buyers and discuss the thriller, which was being sold at MIPCOM by Disney Media Distribution. Business on 'Missing' was brisk with deals now closed in over 80 territories.
"I think what we are seeing is that there are great acting opportunities in television and that studios, producers and distributors are increasingly willing to invest in bringing international talent to our events to underline their commitment to the projects in front of the 4,400 acquisition executives and hundreds of media representatives who attend MIPCOM," commented Reed MIDEM's Television Division Director Laurine Garaude.
MIPCOM Confirms International Credentials
As Cannes prepares to welcome leaders to next month's G20 summit, it was leaders from the global entertainment community and 102 countries who gathered on the Cote d'Azur this week.
MIPCOM's Focus on Russia initiative brought senior executives from 160 Russian companies – a 20% increase on last year - and packed conference and networking sessions in the Russia House pavilion. Among the heavyweight Russian representatives were Channel One Russia CEO Konstantin Ernst and Anton Kudryashov, CEO of commercial broadcaster CTC Media. In a closely-followed keynote address, Konstantin Ernst urged broadcasters to think how to cater for two viewing generations – older audiences who have set viewing routines and the post-1980 generation who "find it difficult to watch an entire one- or two-hour show."
With over 330 Russian television channels now broadcasting and a TV advertising market worth over euro 3.5 billion this year and expected to grow by between 15%-20% in 2012, cross-border deal making in and out of Russia was lively at MIPCOM.
Among the completed agreements, Twentieth Century Fox Distribution signed deals with TNT, CTC and TV3 for local Russian versions of 'It's Always Sunny in Philadelphia,' 'Bones,' 'Tru Calling' and 'Malcolm in the Middle.'
Meanwhile Sony Pictures Television (SPT) announced that SPT Productions Russia will produce 40 episodes of sitcom 'The King of Queens' for CTC and Shine International sold Russian format rights for the BBC's entertainment series 'The Magicians' to Endemol's Russian subsidiary WeiT Media.
With a new Chinese Pavilion gracing the exhibition floor of MIPCOM, the 52 Chinese companies exhibiting represented a 56% increase on 2010. In particular, Chinese animation companies were out in force. This year China will produce over 3,500 hours of animation programming.
Signs of a new entente cordiale appeared on the Riviera, as BBC Worldwide brought new 8x50mins, flagship drama 'Death in Paradise' to Cannes. The fish-out-of-water tale of an English policeman posted to Saint Marie in the French Caribbean, is the first co-production between public broadcasters BBC and France Televisions.
Over at French private broadcaster M6, Head of Drama Philippe Bony came to MIPCOM looking to identify premium action-adventure series co-productions. M6 commissioned 12x60mins 'Transporter,' based on the film franchise from Luc Besson's EuropaCorp. The English-language series sold briskly at MIPCOM with EuropaCorp closing deals in Australia, Russia, Spain, Japan, Poland and Korea.
This time last year, Lionsgate Television International was capturing the MIPCOM headlines with 'Mad Men.' At MIPCOM this week, Lionsgate underlined the internationalization of its business by announcing the creation of a new joint venture, Lionsgate-TISA Television International. The new structure brings together Lionsgate and veteran Latin American distribution specialist Maryaan Pasante's recently-launched Television Internacional Sur America. The new entity will handle sales of Lionsgate's series and film library in Latin America.
"It's clear that TV in all its forms is more international than ever before. The need for complex partnerships, across all platforms and territories, reinforces MIPCOM's mission," noted Reed MIDEM's Laurine Garaude.
Source:
PR Newswire